Would you like to have a membership to a very private place, away from everyday concerns? How about just feeling the God and Goddess everywhere? Rejuvinate with blessings and a bit of the mystical surrounding you when you visit Our Mystical Beginnings Metaphysical Camp and Retreat Center.
This Camp and Retreat Center is not for everyone. We want it to be a place of true "Perfect Love, and Perfect Trust." We do not tolerate Witch Wars, Malice, persecution, judgment, or harm verbally or physically to one another. This is a very private Camp and Retreat Center. It is not open to the public without secure membership.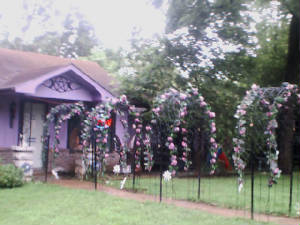 This is where we hold our School of Ancient Knowledge, a library room, and a store where our students and guests can purchase craft supplies. We have candles, the finest incense, packaged dry herbs, books, Tumbled stones, oils, Bath & Body items, pendulums, handmade besoms, and many other items.
| | | |
| --- | --- | --- |
|   | 2005 Schedule |   |
| | | |
| | | |
| | October Witch's Celebration | |