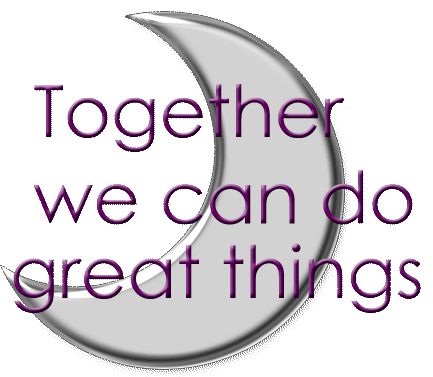 Mystical Beginnings News
Merry Meet Everyone,
February certainly was a very unusual month! Chris and jodie Dug out what we thought was a filled in pond, but it turned out to be a very old cement pool. It has two levels and it is so.... different. It looks like a huge yin and yang in the bottom of it! What are we going to do with it now? Well, the earth that was taken from it, is very rich, black soil, and would be perfect for a community herb garden. This is something we have wanted for a long time. Now for the pond/pool, well we will be having a water fountain within the water filled pond/pool and Chris had thought some fish added to it would be a wonderful addition. Not sure yet what we are going to do. Right now, I just like looking at it, and knowing it has to be over a hundred years old! How Grand!
Our new Covencraft turned out to be a big success. We now have five active covens, and new friendships are really building. We have had a lot of fun, learning, and yes, a lot of work getting this organized, but it is sooooo worth it! If you ever want to join a coven clan, and be a part of a familly of Witches, you are welcome to join a group. There are only five members per coven, and there can be several covens if the need is there.
Bright Blessings,
Lady Amethyst

March Schedule
Saturday, March 5th from to – "Is Mystical Beginnings Haunted"
Thursday, March 10th – New Moon
Saturday, March 12 from to – Elder Meeting
Friday, March 18 from to – Past Life Class
Saturday, March 19 from to – Book of Shadows Club
Friday, March 25 – Full Moon
Saturday, March 26 from to – Practical Magic Class
Sunday, March 27 from to – Children's Circle Club

With a $25.00 purchase you will receive a FREE stone reading!

Special Class
We will be offering a special class on Practical Magic, starting in March. The tuition for this class is $25.00 (this includes book). Please register on or before March 12th in order to ensure a book and a classroom seat. The first class will be held on Saturday, March 26 from 3:00 to 5:00.
Practical Magic for Beginners

Practical Magic for Beginners
Anyone can practice magic to improve their everyday lives. Practical Magic for Beginners is a straightforward introduction to magical practice for Christians, Pagans, Jews, atheists, and people of all religious traditions.

This comprehensive training course presents the foundations of spellcraft and ritual magic through short, simple exercises. Readers explore their energy and senses, and then move on to developing skills in extrasensory perception, divination, and introspection. Magical timing, magical processes, ritual space and tools, journaling, and dreamwork are explained and discussed in depth. This nondenominational guidebook also includes twenty rituals related to friendship, love, prosperity, health, and other common concerns.


Special Activity
Nothing is scheduled for this month.

Coming!
Witch's Spring Fling!
April 30 from 1:00 6:00
More information on this coming in our April Newsletter.
Venders
If you have any items you would like to sell, we have tables that you can set up with your goods. The cost for a table this year is $5.00 for half or a 6 foot table or $10.00 for the whole table.
Woman's Psychic Retreat
May 28 through May 29
Cost is $125.00
"Witch's Costume Ball"
June 2005
Saturday, June 18 from to . Cost to attend is $25.00
Come share a day of fun, prizes and food, dressed in whatever clothing that suits your style/taste/or desire as a witch. There will be prizes for the following categories:
The best dressed Witch
The most unique dressed Witch
Lord and Lady
Drumming will be at this event as well!