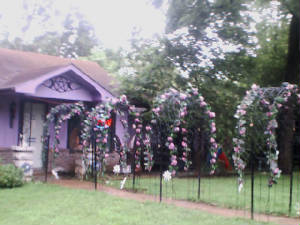 Mystical Beginnings is a very Pagan store located in the heart of the Ozark Mountains. It provides a very enchanting store filled with magick, love and friendship. It was born and created to provide a true place of fellowship, fun, education, and just getting together with other pagans. It offers a Cauldron Eatery, Education, Craft Items, Gatherings, Camping, Retreats, readings, legal handfastings and other clergy needs. The God and Goddess are everywhere, and have even provided a beautiful, large creek surrounded by majestic bluffs and trees for our enjoyment and pleasure. It is home to several very friendly ghosts, and also a gnome (we have a picture of this playful creature).
Bright Blessings,
Lady Amethyst
Mystical Beginnings
20440 State HWY 59
Noel, Missouri 64854
(417) 475-3106


Poor Pagan's Store
We made this on-line store for all who can't visit our physical store, and wanted very low cost, but very good Craft items. All monies from this site will help support Mystical Beginnings. Thank you so much.
Please Enter "Poor Pagan's Shop"

Pentacle Point On Line School
Covencraft School is a new concept. We have a School of Witchcraft at Mystical Beginnings, and was asked if we would offer classes on line for those who lived too far away to attend classes at Mystical Beginnings in Noel Missouri. If you are interested in our education offerings, please enter our school below
Enter Pentacle Point School of Witchcraft

Mystical Beginnings
If you are interested in visiting our physical store, and would like to know what we are offering at Mystical Beginnings, please enter below.
Please Enter Mystical Beginnings

CovenCraft
Are you a Witch who works alone, but wishes you had other Witches to talk with, learn with, and to share information? Maybe, CovenCraft is what you have been serching for. We meet once a month for two hours. If you would like more information, please visit our online information.

Our Monthly Newsletter
Would you like to be notified of what is happening at Mystical Beginnings?
Join our forum for newsletters and updates.
Mystical Beginnings Forum